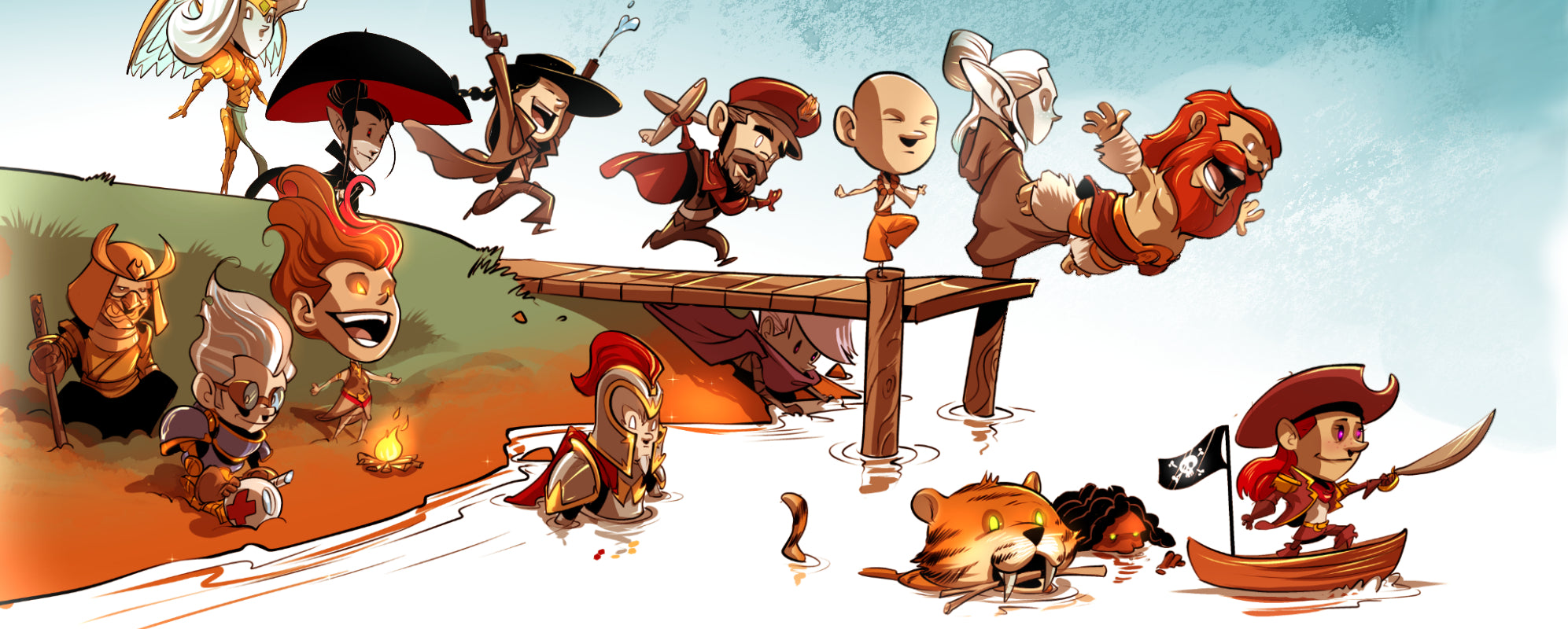 About Dice Throne
Often described to new players as "Yahtzee meets Magic: The Gathering", Dice Throne is a fast and strategic game of card play and dice manipulation for 2-6 Players.

Its variety, set up time, playtime, and addictive nature make it one of the easiest games in existence to get to the table. Dice Throne will be the workhorse of your game collection.

Dice Throne can be played as a 1vs1 dueling game, in teams, and yes even cooperatively with the upcoming Dice Throne Adventures. Dice Throne now features 16 heroes to choose from, each featuring wildly different aesthetics and play styles. Whether you buy a two-hero battle box from your local game store or a BattleChest, every hero you obtain is fully standalone and cross-compatible with all other Dice Throne heroes.

Since the initial release of Dice Throne Season One, our products have raised over $5,000,000 through Kickstarter and preorders.
There is a passionate team behind Dice Throne. Get to know them below.
Our values
Our team's vision is to continue to create balanced, innovative, beautiful Dice Throne heroes and new game modes far into the future. We pride ourselves on delivering an unparalleled level of quality and service.

Unlike other collectible games, we want you to purchase more Dice Throne heroes because you LOVE the game, not because you feel the game is missing something if you don't. It is our objective to ensure every box of Dice Throne feels COMPLETE.

What our team values above all else, is the unforgettable memories and positive connection Dice Throne will bring to your family, friends, and game group. If it already has, consider joining our ever-expanding group of fans in our Facebook community.

If you are new to Dice Throne and are wondering what to get first, consider Barbarian VS Moon Elf ($30 USD) or Season One: Battle Chest($94 USD).
The Team
Nate Chatellier - Lead Designer
Cofounder & lead game designer at Dice Throne. Founder & CEO of the digital gaming studio Nerd Ninjas, which has partnered with Niantic to push the boundaries of augmented reality and location based gaming. Cofounder and CEO of Op Digital Media, LLC, where we specialize in taking board games digital (or even virtual!). Part owner and professional advisor to Stimagz Inc, a magnetic stim / fidget toy designed specifically for ADHD and autistic adults to be the perfect stim toy for their needs.
Manny Trembley - Designer & Illustrator
Author, illustrator, and rabid storyteller. He has worked in the video game/app world for Cyan Worlds, Disney, and Nickelodeon. He has also successfully launched & fulfilled 7 graphic novel Kickstarter campaigns.
Gavan Brown - Game & Graphic Design
With over 15 years of experience as a branding and product design expert, Gavan has been creative director and overseen production for many board games. Gavan's true passion lies in game design and development. Among his most epic game co-designs are Brass: Birmingham and Dice Throne Adventures!
Aaron Waltmann - COO
Aaron has spent most of his life exploring one fantastical world or another, and is excited to be able to spend his time right now in the world of Dice Throne. He enjoys watching his kids begin to explore their own worlds, and looks forward to explore with them side by side.
Jonathan Herrera-Thomas - Community Development Director
Slowly turning a hobby into a profession, Jonathan has decided to use his decade of medical coordination experience to jump into the world of Dice Throne. Coordinating events, community growth and connecting with others are life passions he's excited to bring to the team. He enjoys time tabletop gaming with friends and family, music, supporting local non-profits and the occasional round of disc golf.
Gui Landgraf - Graphic Design
Gui is a long, bearded and loud graphic (and maybe game) designer. They like to make people laugh and to have a bunch of ideas, although they struggle to put ideas down into existence. They love creating beautiful things and organize information in a way that is accessible and seamless, following the core principle that great design is invisible.
Kira Peavley - Marketing Project Management
With nearly two decades of marketing experience under her belt, Kira is a real jack or Kira-of-all-trades. During her time in the industry, Kira served as the CEO of Kolossal Games; works as a content creator with Man vs. Meeple, and she has launched her own media management brand where she works as a marketing consultant with a variety of game companies - Roxley and Dice Throne included!
John Heidrich - Lead Beta Tester
John has been a huge fan of Dice Throne since stumbling upon the Kickstarter all those years ago. When he's not playing Dice Throne, he's either playing Gloomhaven or wishing he had someone to play Dice Throne with. He is currently in the CPA program and loves all the math. His favorite number is 66,666.